The remote certificate is invalid according to the validation procedure. Event Handler does not execute when in a loop. Calculating the number of virtual users for browser driven load testing. How do I resolve the error "compile error SYN 1: How do the dclparam and var sections differ in BDL? How can I confirm that I am a member of the Windows Administrators group on my machine?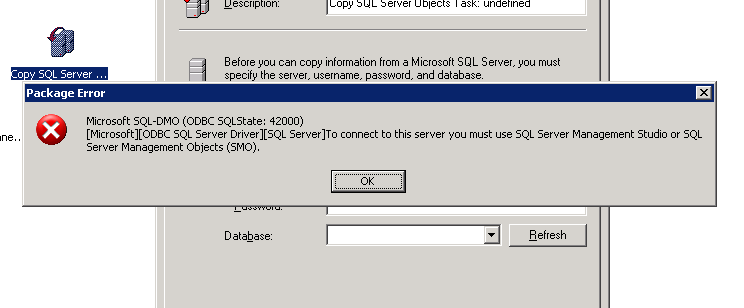 | | |
| --- | --- |
| Uploader: | Fenrijar |
| Date Added: | 27 September 2005 |
| File Size: | 66.66 Mb |
| Operating Systems: | Windows NT/2000/XP/2003/2003/7/8/10 MacOS 10/X |
| Downloads: | 55320 |
| Price: | Free* [*Free Regsitration Required] |
Microsft the customization wizard to modify an already created parameter. Can I safely ignore the error "does not support ole32 function "xxxxxxxxxx"" when recording COM traffic?
If I encounter an unhandled Win32 exception in SilkPerformer why is it being raised in the "Visual Studio Just-in-time" debugger tool instead of the Imcrosoft. How can I view the results of my TSD files for a specific period of time? Is there a way to add a graph to the Overview Report which shows only a selected time frame from my test?
Failed to retrieve data from the database. 42000(Microsoft)(ODBC SQL Server
If I do not have SilkMeter installed on my local installation of SilkPerformer how can Serger check the number of free licenses available on a remote SilkMeter Server prior to running a loadtest?
Randomize surfing through a web application?
Using Trim functions to remove leading spaces or trailing space from a string. How do I record against Emulators from the YoSpace product suite? How can I set the Preprocessor Arguments so that all of my IDL files are loaded during the record process and what arguments can I use?
Does SilkPerformer support the PeopleSoft 8. How does SilkPerformer implement Hostname caching? How do I create a custom template to define which data are displayed in my Overview Reports?
Is it possible to change the Silk Performer project directory for all user accounts on the same machine? How can I pass integers to Nullable serrver in. How can I verify that a Recording Rule has been executed during the record process?
Failed to retrieve data from the database. (Microsoft)(ODBC SQL Server
How can I work out the time my page request spent on my network? How do I configure SilkPerformer to record a Telnet session? If a certain condition is met how can I send an email using my script? Can SilkPerformer be installed using a silent unattended mode?
How does SilkPerformer calculate the exponential odhc for thinktime? Parameter Wizard – Customize Value option within Silk Performer selects entire json data field to customize, as opposed to a specific section. During replay I get an error "WinSock: What are the limitations on text or screens verification in Citrix projects in SilkPerformer?
What could cause an increasing memory usage or seeming memory leak error when running an XML based script? Does SilkPerformer support record and replay of Oracle Forms.
How can the screen resolution at which the SilkPerformer Citrix Recorder will record at be changed?
What are the known issues in SilkPerformer Part1? Can't load JVM v1. See log tab for details.
Handling BrowserFileDownload function when it contains a dynamic file location. Sharing Reports with non-Silk Performer users.
ERROR [] [Microsoft][ODBC SQL Server Driver][SQL Server]Procedure or Function
Maximum length of an acceptable attribute value during a Browser Driven Recording. Change the timeout setting in a. How can I ensure that all users in my test will write to the swl text file sequentially?